So you are looking for a drill that can go through Brick walls or Concrete walls.
You have decided you want to hang something up outside, or In your garage.
What is the Best drill for the job?
There are many different types of Drills, and there are also different Types of Drill bits out there, so Finding the right option can be confusing at times.
Luckily for you here is a Great In depth guide for buying the Best drill and drill bits for Brick walls and concrete walls.
Before we start with what they are, lets talk about some other tools you want to make you have Too alongside your Drill:
Knowing you aren't drilling into a pipe or electrical cables is very necessary to prevent any unnecessary damages to your house.
Thankfully there are some easy to use Electrical cable and pipe detectors out there, they also aren't expensive.
If it were me drilling the holes I'd rather be safe than sorry. I don't wanna bring people in to fix leaks or electricity problems just because I was an idiot
Before we go and mention which drills you will need lets mention the Main types and what they are all about.
Drill types:
Cordless Battery powered drill: These are usually very small, and will be able to drill very small holes. To have a chance on drilling through concrete you will want some very high quality drill bits.
Cordless Hammer drill: These battery powered drills are made to drill through concrete. Hence the name Hammer drill. They are usually designed to be capable of drilling bigger holes.
Mains Powered hammer drill: These are usually great for drilling holes in concrete and they normally have Rotary and hammer settings.
Rotary Hammer Drill: This type of drill is very powerful and will work for large core holes into bricks or concrete.
The best drill is going to depend largely on what size hole you want to drill, and will depend on the density of your Concrete / brick wall.
Battery powered drills are usually okay for very small holes, but for anything larger you definitely want to go for a Hammer drill or Rotary hammer drill. These will last forever, and will drill a million holes without hesitation.
Using a battery powered drill and forcing it to drill holes in brick could damage it so i suggest to keep it for Screwing and unscrewing things, and other easy jobs like drilling through wood.
I will also mention a detailed guide on how to drill into concrete properly after the drills.
So.
What are the Best drills that go through Concrete and Brick?
---
1.DEWALT Hammer Drill Kit, 1/2-Inch, 10-Amp, Mid-Handle Grip (DWD525K)
Best overall corded Hammer drill
10 AMP Motor
0-3,500 RPM
0-1,200 Torque power
Delives up to 980 unit watts out
Handle Grip Included
Depth Measuring piece included
Speed Variable
Three Year limited Warranty
Pros
Premium Option
Extremely High-Quality and Durability
Comes with Depth Measure
Comes with Handle-Grip
3-Year Warranty with 90-Day Moneyback guarantee
So If you want an Amazing drill that will last you a lifetime this is the way to go.
DEWALT Are well known for their extremely high standards when it comes to quality and durability, so if you are always unlucky and things always break with you this is the way to go.
It is a Solid option.
I know it is not very Cheap, but this drill will serve you a lifetime, and will be a Great asset for any drill work you need to do around the house.
This is a Hammer drill so it will work Great for large holes as well as small holes, and you can use it any way you'd like.
Unleash your creativity.
It comes with a depth measuring tool which helps you get the right depth when drilling your holes, and the Power Grip handle helps you add extra power into the wall when drilling.
Drilling into thick brick walls and concrete without a Power Grip Is much hard and having the grip option is much preferred
So, If you are anything like me and prefer to get a High-quality tool that lasts you a lifetime, rather than a cheap one that breaks down in a month, This is the way to go.
---
2.DEWALT 20V MAX XR Hammer Drill Kit, Brushless, 3-Speed, Tool Only
Best overall Battery powered Hammer drill
Battery-Powered
20V Battery
3 Speed
High-Efficiency brushless motor
3 Mode LED Light with a Spotlight mode
Battery sold Seperately
2,250 RPM
Draws up to 820 Unit Watts
3 Year Limited Warranty with 90-Day moneyback Guarantee
Pros
No need for Outlet (Battery Powered)
Great Cordless Design
Drills through brick easily thanks to Hammer drill setting
Includes Power-Grip Handle
Great warranty
Cons
Battery is not Included with the Drill
A little heavy
A Great drill from DEWALT accompanied by their high-standards and great warranty Support.
If you are a fan of convenience this little bad boy will drill through brick walls and concrete on a Battery.
It has a Hammer Mode despite the fact it is battery powered.
If you are going to buy yourself a Cordless drill that will also work great for drilling holes in Concrect or brick walls this is the way to go.
Just make sure to buy yourself a Battery too, as this drill doesn't include a Battery with it.
One of the best things about DEWALT is they are manufactured in the US, so if you live in the US These are a great option for you.
It is a monster and is very powerful. It will give you instant torque which will help you get work done faster and more easily.
However, If you want a drill to use mainly for drilling concrete walls and you want to drill really big holes a Direct current drill would probably be a better option for you to go for.
---
3.Bosch 11255VSR Bulldog Xtreme - Masonry Rotary Hammer Power Drill
Best overall rotary drill
Cable Powered
3 Modes: Rotary Hammer, Hammer only, Rotation Only
Vibration Control
Ergonomic Handle Design
0 to 1,300 RPM
Chuck Size 3-4 Inch SDS-Plus
Chuck Design: Keyless
Includes Auxillary Handle + Depth Gauge + Carrying Case
1 Year Full warranty
30 Day money back warranty
Pros
SDS Plus Drill bit compatible
Great for Concrete
Can drill through the Floor
Chisels through any floors with tiles and Cement with Ease
Extremely high durability
Ergonomic design for easy handling and delivering more power to the Drill
Anti Vibrational Technology
Cons
Not the Cheapest of tools
The Bosch 11255VSR Bulldog Xtreme Is a must have for any DIYers or people who love DIY and for any fix-it savvy people.
This drill is built to last, and is nice and bulky and capable of attacking and destroying any task at hand.
It shines at drilling through the toughest of concrete and walls, and floors and won't disappoint.
It is one of the most sturdy drills you will come across, and is built like you would expect from a "Bulldog-Xtreme" drill.
If you hate the vibration that comes from pushing a drill into a wall, that totally vibrates your whole body you won't be experiencing that with this drill.
Thanks to the Anti-Vibration Technology you will feel the vibrations no more.
It has extremely positive reviews ranging from "Lasted me 3 years of Heavy use and still going" to people who are Very impressed with the Drill.
The Hammer mode on this Drill works like a monster, goes through concrete like its nothing, so no more needing to fight your drill to get a little hole in the wall.
It is also very good for Chipping concrete with a chisel head attached using the hammer mode.
If you want a drill that won't dissappoint this is the way to go!
It's a Beast that stays in it's prime.
If you are looking for the Set and can't find it, Here is the Bosch 6 Piece SDS-plus Masonry Trade Bit set, with Chisels and Carbide, HCST006 on Amazon.
---
4. DEWALT 20V MAX SDS Rotary Hammer Drill, Tool Only
Best Battery powered Rotary drill
Battery Powered
Retractable Utility hook for convenient hanging and storage
2.1 Joules Impact energy providing Corded power without a cord
0-1,100 RPM of speed.
Active Vibration control
360 Degrees Side handle with a Depth rod
90-Day moneyback Guarantee No questions asked
Limited Lifetime Warranty
One-Year Free Warranty.
Pros
Battery powered Rotary drill
Great build quality
Great Lifetime warranty for any worn out parts
Vibration control Technology, for reduced pain and increased comfort and productivity
Perfect for overhead drilling into the ceiling
Delivers Corded power in a Cordless form
Used by Many construction workers
DEWALT Are at it again.
A superb drill from DEWALT That features corded power in a cordless rotary Hammer drill form.
It is an SDS Rotary hammer tool which means you can use any SDS Bits for your Drill.
The Performance of this drill is seriously impressive from a not so bulky tool. The Jack Hammer mode is beastly, and will power through any job you want to use.
If you find yourself needing to drill through concrete many times in the future, or find yourself needing a Rotary Hammer drill. This is definitely the way to go.
Especially if you are like me, and you hate dealing with wires all the time, and bringing an extension cord, and blablabla...
No. This works on the go, Just take it with you anywhere, do your job, and your done.
Perfect for anyone who is always doing DIY projectors that require drilling into concrete or that may require the Hammer mode on a Drill, but for someone who hates wires.
This drill is also used by many Commerical electricians, and construction workers thanks to the Great power this 20V Tool brings. It also has a Chipping function which is Very good for many purposes.
The only downside with this drill hammer, Is for Overhead drilling, it may suck in debris that fall, which could lead to premature end of life. However, You have a lifetime warranty for any wear and tear through normal use.
So don't worry. They got you covered.
If you are like me, and thought a normal drill would do the job fine, and are still using a normal drill, Do yourself a favour and get yourself a rotary hammer drill like this one.
Smoothness of operation and lower noise is amazing with this drill, and it helps reduce vibrations so it doesn't hurt your arms and jolt your whole body.
---
5.SKIL 7.5-Amp 1/2-Inch Corded Hammer Drill - HD182001
Best overall Budget Hammer drill
Corded Hammer Drill
7.5 AMP Motor
2 Modes, Hammer drilling, and drilling
1/2 in. Heavy duty keyed Chuck
Side assist handle
2 Finger variable Speed Trigger
Lock on button for extended drilling
0 - 3,000 RPM
Pros
Great Cheap price
Gets the job done
Works great, and is perfect for New DIY hobbies
Variable Speed
Perfect for smaller and easier jobs
Cons
Won't last long if you burden it with harder jobs
Not the best build quality. You get what you pay for
The SKIL 7.5-Amp 1/2-Inch Corded Hammer Drill - HD182001 Is for anyone who wants a drill that will just get the job done.
You don't want anything fancy with Vibration control, and mega power. You don't mind breaking your shoulder while trying to push the drill to make a hole in the concrete.
Then this one is for you.
If you aren't really going to be using a drill much, and can't justify spending more on a drill just for a few holes then this should definitely do the job.
Be warned though, This is not built well for heavy tasks. It is perfect for small holes in the wall, But anything bigger and you might be running into trouble sooner rather than later.
But for the price, It will definitely do any small jobs around the house, and if used properly will easily last you a decade.
It has 2 Different modes to help for use in a Variety of applications. Hammer mode and drill mode.
The Variable speed trigger is very helpful when it comes to controlling the drill, and definitely helps you control it much better.
As the drill starts to wear out, it might start giving out sparks. But that is the case with most budget Hammer drills.
Budget hammer drills definitely work for small occasional house work, but for any bigger projects in mind you should definitely invest in a higher end option.
But if your just a casual DIY person, and just like doing some mini projects every now and then this will definitely prove itself your best friend.
Power is not an issue with this drill with some people complaining of it being too powerful, But that shouldn't be an issue.
The hammer mode isn't the best, but it gets the job done slowly.
---
Frequently Asked questions
---
How do you drill a hole in Brick or Concrete?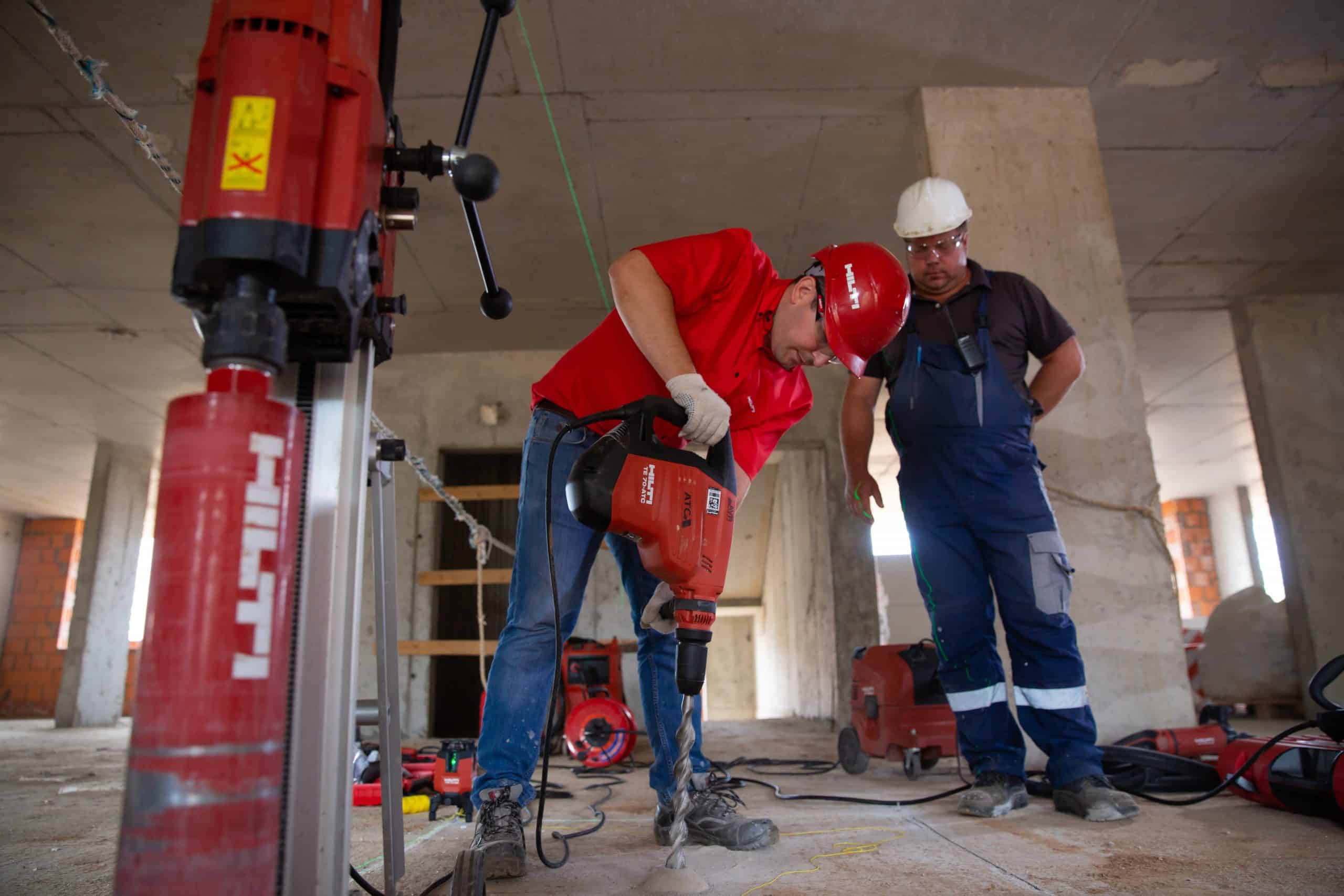 For a few small 1"-deep holes all it will take is an Odrinary drill. Just make sure to get a Carbide-tipped masonary bit from your hardware store and you are good to go. However, If you are thinking about mounting heavier objects that will require larger holes that are deep you shouldn't use an ordinary drill. You will fry it.
Make sure to get a Hammer Drill which is very powerful and which bores holes into brick and concrete using Hammer-like hits.
You can Either buy yourself a hammer drill that should last you a lifetime, or you could go to your local hardware tool rental store, and get yourself a Heavy-duty Drill.
Here are the steps to drill a hole in Brick:
Find the exact spot you want to drill in.
Make sure not to drill in mortar for heavier objects, Mortar usually cracks and doesn't hold up.
Find the exact depth you want to drill, and set a stop to your desired hole depth using a depth measure, or using a piece of masking tape on the drill bit.
put on safety gear. Inhaling brick and mortar dust is bad for your health and can create a health hazard
start with a smaller drill-bit than the intended size
position the pilot drill bit on the wall, and start to drill very slowly
Swap with a larger drill-bit and continue to drill to the desired width
Make sure to use compressed air to clear out the the drilled hole. leaving dust inside could reduce the holding capacity of the wall anchor or screws you use
Insert a wall anchor
Thats all
Make sure to know!
If you are going to be holding heavy objects with your wall make sure to use Expansion Bolts, as they are intended for heavier use.
If you use normal screws for heavy objects like a pull up bar, it won't hold up.
---
Can I drill into brick with a regular drill?
You can definitely drill into brick with a regular drill but only by using Carbide masonry drill bits. For smaller holes you can definitely drill into brick with a regular drill, for larger holes you should definitely consider using a hammer drill or Rotary drill.
Take it easy, and slow. Make sure to let the drill rest to prevent it from overheating, elsewise you could end up frying your drill.
Some shops may offer rental Heavy duty hammer drills, or another option is to borrow one from a neighbor if you don't have one.
---
Is it better to drill into Mortar or Brick?
Drilling into brick is usually the best choice when it is in good condition. Brick is much stronger, and can hold heavier objects with ease. Mortar Is only good for light weight items, and shouldn't be used unless the brick is old, or damaged.
---
What Drill bit should I use for Brick?
Masonry Drill bits Should be used for Brick. Drill bits made for Concrete and brick are called masonry bits. The strongest type are the ones made from Tungsten carbide. However, when it comes to solid concrete, the sharper the better.
The hammer drill action combined with a sharper tip helps the drill to chip away at the hole much faster than a blunt masonry drill bit.
---
Can you sharpen a Masonry Drill bit?
Yes! for sure.
You can sharpen a masonry drill bit using an Angle grinder, or using the old fashioned way with a Grinding stone. But it rarely worth it, and it is usually recommended to just get a new drill bit.
However, if you just have a few more holes to complete, and don't feel like buying a new drill bit you can definitely sharpen your masonry drill bit.
Here is an In-depth guide on how to sharpen a Masonry Drill bit by Home Guides
---
How Do you know what size Drill bit to use in Concrete or Brick?
It is pretty simple.
Take the Masonry plug and hold it vertically
Try measure multiple Drill bits infront of the masonry plug until you find one that is slightly bigger
Usually you that is the correct size to use for concrete of brick.
Make sure its not a lot bigger, and only a fraction bigger.
That is how you know what size drill bit to use.
If you go too small, the wall anchor, or masonry plug wont fit in the wall. If you go too big, it won't hold in the wall well.
---
Are concrete screws any good?
Concrete screws are great and effective for light and medium tasks. Things like fastening shelving brackets, plumbing straps, electrical boxes.
But for anything that is heavier, you should consider using expansion screws, or using Wall anchors acommpanied with the proper screws.
Concrete screws don't work good for old concrete that is crumbling away.
---
If you found this Post useful Make sure to share it with your friends below!
and have a nice day!