My story with art projectors...
My brother once made this amazing drawing when he was still in school, and the idea of having that awesome artwork on his bedroom wall haunted him to this day!
So we searched online about how to draw on walls, and many other things until we finally got the answer. A digital art projector. We did a quick neat design on the computer mimicking the one he had drawn, and we were ready to go.
Little did we know, we didn't really need to sketch it on the computer in order to get it on the projector.
All we needed was an EZ Tracer projector that projected the drawing onto a wall... Oh well, lesson learned.
He finally bought a Digital art projector and put his Idea into action. It came out great, and we had lots of fun doing it.
Nothing feels as good as having your own artwork on a wall.
When deciding on buying the Art projector we asked many artists, and did a lot of research online for hours to make sure we found the best projector possible.
Having already done the research and everything, I thought;" why not write a blog about it and make it easier for people to find digital art projectors?"
So I finally decided to do it.
Prefer watching a video? Here it is!
So, to make sure you get the best projectors possible and don't regret anything I made sure to do as much research as I could.
My goal is to have the best guide out there. Because, when I was looking for an art projector it was very hard to find any valuable information.
Before I start with the projectors, il dive into what you need to know when buying one first.
---
What type of art do you need to project?
There are two main types of art you will be looking to use on a projector.
---
1.Digital art
When looking into projecting digital art, you probably want a projector that can plug into your laptop or pc.
Some of them can also project from your phone, which is a very nice addition if you aren't always carrying a laptop.
These projectors are called Digital art projectors
The main factors to look out for on this type of digital projectors is the resolution of the projector. You can definitely get along with a low-resolution Digital projector, but it will be pixelated so it will only work for tracing.
If you want all the details you will want a higher resolution projector. That way you get to crisp images with very detailed colors and Unpixelated accurate lines.
Where Digital Art projectors excel over the physical counterpart Is:
They have better color reproduction
They have higher resolution, as by using a high-resolution image you can get more pixels than you would with an opaque printer.
Usually, They have better brightness and are better suited for outdoor artwork, due to their higher brightness capabilities.
---
2.Paper art, or physical art.
For these projectors, you need a Physical piece of art. You put your Drawing, artwork, or Sketch on the tracer, and it Magnifies it and projects it. These projectors are the traditional type most used by artists, as you can do a sketch on paper then project it onto a wall.
They are extremely convenient and Fun to use.
These projectors are called Physical projectors, or Opaque projectors and Some call them EZ Tracers
What you need to know about these projectors is, how much magnification do they do.
The quality of these printers isn't the best, as they have to magnify an image up to 10 times, meaning you lose 10x the details. The projector can only gather details from your piece of art, and if it's on an a4 paper, it's like spreading your a4 paper drawing onto a big wall.
Don't expect very sharp and accurate images with this type of projector, as the projector cant do magic and create resolution from thin air.
However, they have many advantages: They are portable, they are much cheaper than the digital projectors, and they don't need a device, you just need a physical piece of art.
These are generally perfect for beginners, as they require no setup, and have a very simple easy to use design. And they are cheaper, so you don't need to blow a hole in your pocket to try out some Mural Wall Art.
---
What size do you want your projector to deliver?
If you think about it, The further you go away from a wall the bigger the photo becomes right?
Sadly, it's not as simple as that, because if you go too far away from a wall you will lose brightness and color quality.
That's why It's important to get the projector designed for the size you need, this way you won't compromise Quality.
I suggest you get a Tape measure, and figure out what sizes you will need, and then measure a line diagonally between the two corners of your estimated rectangle. That will give you the Size you need in Inches.
You can get away with a size a little smaller than what you need, but don't gamble too much because you are going to lose quality and brightness.
---
How much space do you have for it?
The further you go away from the wall the bigger the photo gets. What if you have a small room or studio and don't have space to go any further?
You will need a projector with a Wide projection apparatus.
To know more about this issue there are 4 Types of projectors
Long-throw, Normal throw, Short-throw, and Ultra-short throw.
Look at the example below.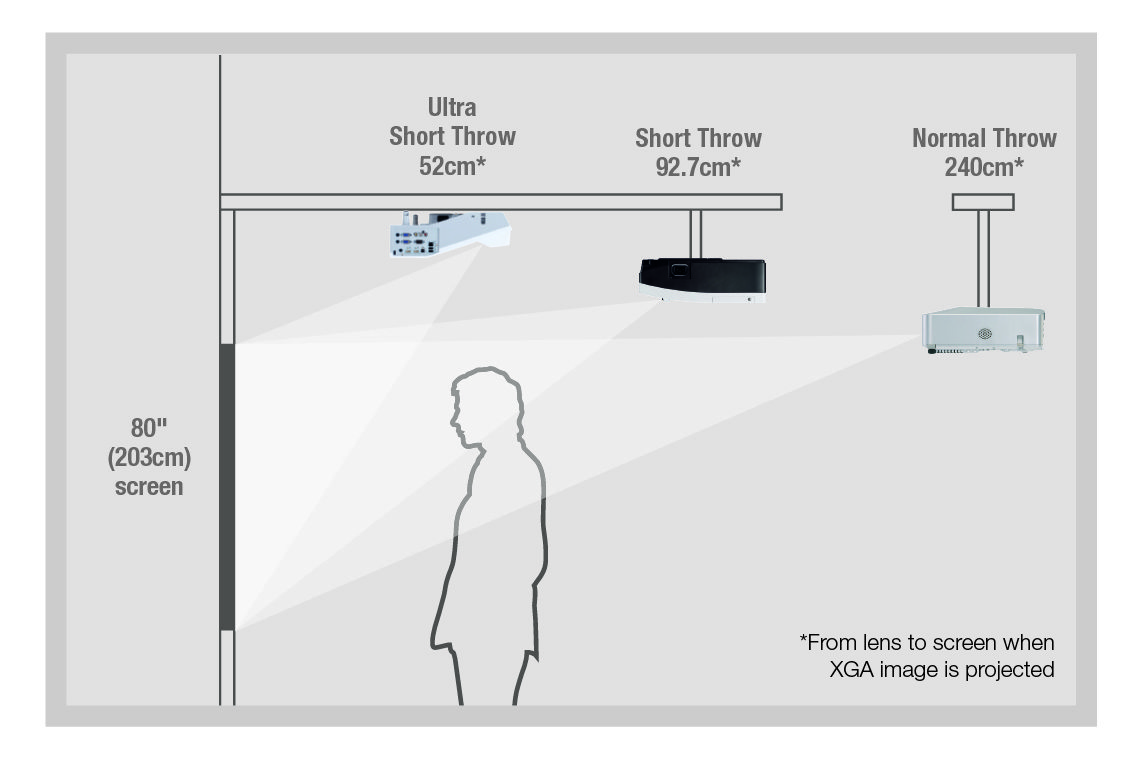 If you know you are typically going to be working in small rooms or environments, you will want to go for an Ultra-Short throw projector.
A short throw projector will work for a medium room size.
Normal throw projectors work well for a big sized room.
Long-throw projectors are generally for big studios or extremely big rooms, so I recommend you stay away from them, however, they are Very good for working outdoors where you have a lot of space.
Generally, for Long throw projectors, you need to keep the projector about 10-12 feet away from your media to get a 100-inch projection. There is no rule to this, and results may vary with different projectors.
Normal projectors are best suited for 8-10 Feet away. ( for 100-Inch images)
Short throw projectors are best used 7-8 Feet away. ( for 100-Inch images)
And Ultra-short projectors can do 100-Inches from just 1-3 feet away!
However, I would recommend going for the biggest throw distance you can. That will throw less shadow on the wall and will be easier to work with.
It will also shine into your eyes less.
If you are going for an Ultra-short projector make sure to mount it from the ceiling. That way they won't shine in your eyes.
---
Brightness (Lumens and Lux)
Different projectors will advertise brightness in different ways. Some will talk about lumens, and some will take about Lux.
Lux is how Intense the light is within a certain amount of space.
Lumens are how much light Exits the projector. Without calculating how much light hits the surface.
They both work together, but it's important to know they are not the same.
Do you want to work outside, or inside?
If you are planning on working inside and can wait for it to get dark, then brightness is not a very big issue for you.
However, if you plan on working in a well-lit place, or you cant get complete darkness you will need a projector with good brightness.
But, as an artist its extremely hard to work in a completely dark room, you need to see what you are doing.
So the more Lumens you can get the better.
---
What is the best resolution for artists?
Even if you think 480P looks fine on your phone, it won't on a projector.
Resolution is how many pixels are on your display. 480P on your phone may look fine, but on a 50 inch TV it will look pixelated and bad. Try watching youtube at 480p on a large tv in your house!
It will look ugly
720P or more is the way to go. Unless you are okay with working on very pixelated images.
The difference between 480and 720P doesn't seem big.
But if I tell you to compare a 4-Foot man to a 7-Foot man, what do you think now!
a 4-Foot man will look like a Dwarf, but a 7-Foot man will look tall as hell.
Please don't laugh at how bad that metaphor was.
Anyways. If you can try and go with 1080P to get all the details you need.
And if you are working on Extremely large Mural artwork, like 150+ Inches in size you could opt for a 4k projector.
But keep in mind 4k Projectors are EXTREMELY expensive, so I stuck with the 1080P and 720P projectors for this review.
And to get a 4k Projector with bright lights will cost even more. So stick to the 1080P, Unless you have lots of money, but then you wouldn't be reading this.
Warning: Some manufacturers label their Projectors as 1080P Projectors, Little do you know, they mean that the projectors can play 1080p footage. But the quality of the footage will be played at 720P, so be careful when buying budget projectors!
---
Budget
Unless you are a millionaire, budget will always be a painful problem.
The sad fact is that you get what you pay for.
However, these days Projectors are 10 times cheaper than they once were, and they manufacture them pretty well for low prices.
Usually, I recommend staying away from anything below 100$, as they often have very bad Brightness and many other Issues.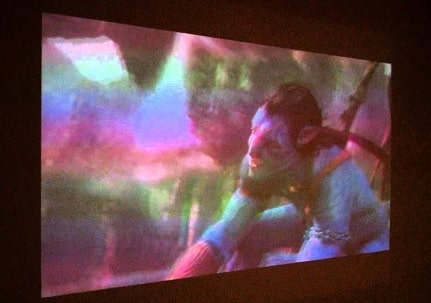 There are many other problems you may face with bad projectors, such as weird artifacts like a rainbow effect. Also, cheap projectors may have major issues like being unable to properly focus on the image.
All that said, there are still some viable options and il try to mention two of them.
And the Opaque projectors generally cost cheaper than digital projectors.
---
Portability?
Some artists are on the go.
If you have to do your art in multiple locations and need a way to use a projector in different places you will definitely benefit from getting a portable Projector.
These days you can get portable projectors that are so small they can fit in your pocket!
You just charge them up like your phone and use them on the go.
As cool as the Idea sounds, you won't get the same quality you would get from a projector you plug to a direct power source.
However, if you go for the High-end portable projectors you would definitely be very happy with their quality and results.
Okay now that we have covered everything you need to know we can move on to the Best Projectors for art and artists.
---
The Best projectors for Artists and Mural Wall art
What are the Best projectors for Artists and Mural wall art in 2020?
---
1. VANKYO Performance V630
A perfect option for Art enthusiasts who want the best option possible without putting a whole in their budget.
Pros
800 Lux
One of the Brightest projectors available
Amazing quality, even in well-lit places
1080P Native display
Very Accurate colors
All connectivity options
Projects very big sizes up to 300 inches
50000 Hour Lamp life
3 Year warranty and 3 months free return
Very Good cooling and low noise (80% Lower than average projectors)
VANKYO are Well known for making amazing projectors. all their projectors have very solid reviews, and are unbeatable for their prices.
The fact that this projector has 6500 LUX means it's bright enough for any art project you will be doing, even if its outside!
An Awsome choice for Mural wall art as you can project from 46" to 300"
The projection distance varies between 5 FT to 30.18FT. It is not an Ultra short throw projector, as that type of projector will easily cost $1000 or more, this is much more budget-friendly, and if you have space will do a treat.
The performance V630 uses and LED Projector type. LEDs are Much brighter, More power-efficient, and are smaller!
An innovative cooling system in this projector makes it able to cut the noise of fans by 80%. So it won't give you a headache like most other projectors out there.
Another cool feature about this projector is it allows you to place it at a 45 degree angle without any problems. So you don't need to place it directly behind you and can adjust it's place so it doesn't bother you.
That also helps you prevent unwanted shadows.
Connectivity Options
It is equipped with 2 HDMI, AV, VGA, USB, SD Card, and Audio Out Ports.
Vankyo's Performance V630 video projector enables to flexibly connect to various devices like TV Stick, X-BOX, PS4, PC, Laptop, USB sticks, SD cards, Android or IOS devices.
Very wide connectivity options which make it very easy to use for any type of artwork you would need it for.
Three year warranty!
VANKYO provides you with 3-Month Free return, and Full refund!
They also provide you with a 3-Year free repair, and life-long professional customer service and technical support.
---
2. VANKYO Performance V600
Pros
6000 Lux
Very Bright
Easy to use in Well-Lite places
1080P Native display
Very Accurate colors
All connectivity options
Projects very big sizes up to 300 Inches
50000 Hour Lamp life
3 Year warranty and 3 months free return
Another great option from VANKYO.
This one is Cheaper than the first one, as it has Less Brightness.
The Vankyo Performance V600 Has 6000 LUX, compared to 6800 In the first one. Not the biggest difference in the world, but it will definitely show when you are doing projects in lit places.
If you are mainly going to be using the projector outdoors for mural wall art, or in the evening when the sun will still be shining, stick to the number 1.
Otherwise, if you are working in Darker conditions, This one is a great option. 6000 Lux Still work well for lit conditions, but won't be as good as 6800 Lux.
It also has a native resolution of 1080P and a contrast ratio of 5000:1
It can display from 50" up to 300" in size too!
The lamp will last Over 10 years of daily use from 2-3 Hours, which is amazing for a projector. Many cheaper projectors die out very fast, and may stop working in a year.
But this lamp is a different story, Very bright and lasts over 10 years of daily use. It is pretty remarkable at its price
Connectivity Options
Two HDMI ports, including one premium audio, and allows users to project full HD presentations from laptops, smartphones and streaming devices. ( 1AV, 2 HDMI, 1 USB 2.0, 1 VGA, 1 SD Card slot, 1 Audio out)
So you can easily display your Art from your phone or laptop without any troubles, making life easier as an artist.
Warranty
VANKYO offers 3 months free return for full refund and 3-year free repair, Long life professional customer service and technical support. If you have any problem, please feel free to contact us.
Just like the previous one.
---
3. Artograph LED EZ Tracer
Pros
Portable
Light-weight
Enlarges photos from 2-10 times
Very Simple and easy to use
A good tool for kids
An amazing tool on the go, thanks to the light-weight and a handle for easy handling.
Cons
Light bulb usually comes broken, so you may need to buy your own bulb
Light is not very bright and is hard to use in Lit up places
This one is a great option for beginners, or for hobbiyists.
It also works out very well if you just want it for a particular project.
Very budget-friendly option, and works amazingly well. You place a piece of art on a table, and place it on top. Boom! Its working.
This one is the easiest to set up, and works well on the fly. It is very small and light, so you can use it as a portable option without any problems.
So basically the EZ Tracer enlarges any design or pattern from a 4 x 4 inch / 10.2 cm x 10.2 cm copy area onto a wall or easel from 2 to 10 times enlargement. For larger images, work in sections. Your EZ Tracer needs to be flat on a sturdy table or stand. The surface you're projecting to needs to be vertical, such as a wall.
---
How does it work?
It works by shining a bright light on a printed paper or photo. The image reflects through the lens onto your surface.
You adjust the size by moving the projector closer to your surface, or farther away. Focus is by pulling the lens inward or outward.
It's a simple projection system that has worked well for a very long time. Unlike the new digital projectors, the light is much less bright, as it's working by reflection rather than the projection of light.
---
It is also extremely silent
This has no connectivity options, as it uses physical art or photos.
It is also a very good option for kids, who want to experiment and have fun. they can use it for many things.
A perfect young artist's projector. The EZ Tracer can bring non-digital arts, crafts, and creations to the next level.
Keep in mind this is not very suitable for professional use and results as the brightness is not very high, and will not work in a lit-up room.
Keep in Mind! Many users recieve this product with a broken light bulb, as it probably breaks while shipping or something. Make sure to buy a light bulb to go with it, and you are good to go!
Warranty
It comes with a UL Approved 1 year warranty.
---
4. APEMAN NM4 Portable
Pros
Very small
3400 mAh Battery
Works as Power-Bank and charges your phone
Colors are very accurate
45000 Hour Lamp-Life
Compatible with all devices
Cons
Only uses an HDMI Connector
2.5 Hours of Battery life. However, you can also use it while plugged in.
Easily the best portable projector out there.
If you are an artist who works everywhere and you don't work in a specific place, then this is a great option for you.
I know you artists have lots of gear, and can't be carrying tons of weight around. And that's exactly why this is here.
It is extremely lightweight and is even lighter than most phones.
It weighs around 0.44lbs, and it's very easy to throw in your pocket or bag and it works seamlessly well.
The battery life is not the best, but it is the price you will have to pay for all the portability it gives. But hey, you can always plug it in while working too if you need to.
Its battery lasts 2.5 hours on one charge (Rechargeable). The lamp inside it is built very well and has a lifetime of 45000 hours. Meaning if you use it for 3 hours a day, it will last you 40 years.
Resolution is not the best, but, it does the job and will definitely work if you need it mainly for tracing photos. It is also very fun to use for watching movies, as you can take it anywhere you like.
It supports 1080P Footage but the native resolution is 854 x 480 pixels.
Within the distance between 1-4m, It can achieve 30-100" big display screen size. This fact alone is what makes it such a good option for artists. As even if you are working in small spaces or rooms you can still get a very big image.
It comes with a tripod, which makes sure you get the accurate placement and angle you need.
If you are anything like me and you hate noise, then rest peacefully. It has Super Low noise, meaning it won't drive you nuts, and you can listen to your favorite music without any troubles.
It also diffuses reflection protecting your eyes!
Connectivity
M4 mini projector supports Windows laptop, Macbook, DVD Player, Tablet, PS3/4 Console, Android Smartphones, iPhone, iPad, TV Box.
It connects to devices by an HDMI port.
So if you want to connect it to your phone you will need to buy an HDMI adapter so you can connect an HDMI cable to your phone. They are really cheap and easy to find.
It also works as a power bank! If your phone is almost empty, it will charge your phone with its rechargeable 3400 mAh battery.
Warranty
APEMAN dedicates to provide professional projectors with exceptional service.
The product covers a One-month refund and exchange and One-Year Warranty. For any product problem, please don't hesitate to reach them. They are ready to offer you a satisfactory solution at any time.
---
5. VANKYO Leisure 510
Pros
720P Resolution
Supports 1080P
4500 Lux
Dual Stereo Speakers built-In
50000 Hour lamp life
All common connectivity options
Cons
Speakers sound a little Tinny
No screen size controls. (You can still move the projector away to get a bigger size)
If you want the cheapest option that will do the job, this is the one.
It has 720P Native resolution, but it's built extremely well compared to other 720p projectors.
The contrast ratio is 3000:1 which allows it to produce a brighter and crispier visual experience.
The fact it has 4500Lux means it can work even if it's not completely dark.
It has an advanced cooling system that prevents overheating. It also makes sure it performs well long term while reducing fan noise. Giving you a more immersive, authentically reproduced audio experience.
It even has HiFi Stereo Dual speakers in it, so if you like listening to music while creating your art, it has speakers in it. So your problems are solved.
Its also a very good option for movies, or youtube videos, so you will be using it for more than just art.
The lamp inside it has 50000 Hours of life. It will probably outlive any device you own and will easily exceed 10 years.
Connectivity
VANKYO Leisure 510, it is compatible to PC, laptop, iPad, iPhone and other smartphones, as well as TV Stick, Chromecast, Xbox, and PS3/PS4. A true omnipotent multimedia projector.
It comes with 2 HDMI Ports
Its honestly very good so don't stress about it too much. If you don't have enough of a budget for the others on the list just go for this one. The difference is noticeable, but it won't affect your drawings or art too much. Especially if you mainly care about tracing
However, if you need all the colors and you need to reproduce extremely accurate artwork and mural wall art, then I recommend you stick to number 1.
I hope you found this article useful, and i wish you a nice day.
Share this Article with your artist Friends Below!
And Share it with anyone Interested in Mural Wall art!