There are thousands of projectors out there today.
The choice is overwhelming
If you are just tired of searching and want the perfect projector for your phone in 2020 then rest assured. I found you the best 5 Projectors for your phone in 2020.
These projectors support all phones ranging from Android devices to iPhones and iPads.
There are many reasons you may want a projector for your phone.
You may want to enjoy watching youtube videos on your bedroom wall.
You don't have a TV and want to use your phone as an alternative.
The Idea of having a Big screen on your wall haunts you every day.
You Can't afford a big TV.
You want to be able to use it in multiple places.
You love the idea of having a Big TV that fits in your pocket.
Another reason you may want a projector is if you are an Artist.
If you are an artist looking for the perfect projector for producing Mural wall art or for painting on walls then check this blog about the Best projectors for Artists.
And the list goes on and on.
Prefer watching a video? Click below!
If you aren't in a hurry and just want to get to the projectors then use this Table of Contents.
When Finding your projector for your phone there are a few things you should consider.

---
Size of the Projector

So. To keep things simple, there are three main categories of portability.
Mini-Projectors
Small projectors
Normal Sized Projectors
The right size for you depends on how you are willing to use it.
But for the best quality possible and the best brightness possible the bigger projectors will do a better job.
If you are always on the go and need a portable projector, then Mini-sized or Small-sized projectors are the way to go.
Some Mini-projectors are even battery-powered which makes them amazing for portability.
---
How to measure projection size?
You may be thinking. Hey I could just go far backwards and the Photo would get bigger.
As cool as the idea may sound, If you use projectors further away from the wall than they are intended to, You will sacrifice Color quality and Brightness.
It is important to get a Tape measure and find out what size you want.
You have to measure a Diagonal line between the corners of your needed Screen size.
So, Imagine how big you want your screen on the wall, and Measure a Diagonal line across the two corners off that.
Okay.
Now you know what size you need.
What next?
---
Projector Viewing distance How far can you go?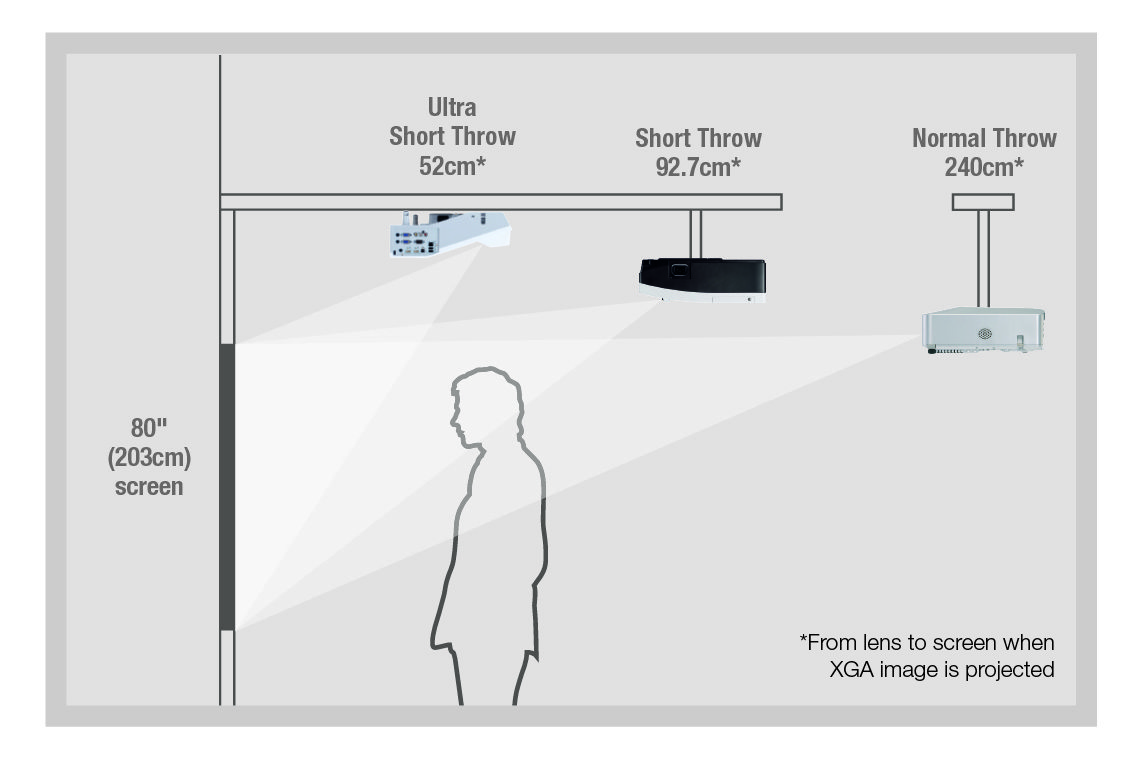 How far away do you want your projector to be from the wall?
Projectors come in different operating distances.
You have Short-Throw, Long-throw projectors, And Medium-Throw projectors.
Most Projectors will be Long throw, as they are easier to manufacture and are usually the cheapest type.
If you need an Ultra-Short throw projector and your room is very small, It will come at a hefty price.
Ultra short throw projectors tend to be very expensive.
For this post, we will be focusing on the best 5 medium and long throw projectors for your phone as their price is much more reasonable.
Okay. That is Conquered.
Now what.
---
How much resolution do you need?
If your budget is low then go for a 480P or a 720P Projector, Otherwise, always try to get a 1080P Projector.
480 May not look bad on your phone. But when you x10 the size of your phone to a wall you are going to get a Very pixelated video or Photo.
Try stay away from lower resolution Projectors unless you are going for battery-powered projectors.
Battery-powered projectors won't usually project full HD As that would require a lot of power. If you want the best quality for your buck you will have to sacrifice on portability and get a Cable powered projector.
Beware!!! Don't Get Tricked
Some manufacturers will try and fool you by saying their projectors support 1080P.
The trick is in the word "Support"
Yes, their projector can play 1080P Footage, But usually, they play the 1080P Footage at 720P, or in some cases even 480P.
It means the projector is capable of playing 1080P videos you have, but it won't play them at 1080P
Look for the word "NATIVE RESOLUTION". That typically identifies the actual resolution that the projector can output.
Okay, What else?

---
Price of the Projector

You get what you pay for. Really cheap projectors sometimes have very annoying problems like Rainbow Artifacts and other annoying issues.

Beware of untested cheap projectors as they will usually have very bad Brightness and will have extremely bad looking colors.

Another thing to look out for is Brightness.

---
Projector Brightness
Projector brightness is measured in Lumens or LUX.
If you intend on using the projector in the Dark, or in a Pitch black dark room then you don't need to worry too much about the Lumens or Lux of the projector, Anything will do the job.
If you intend on using your projector in a Lit room you are going to need a very bright projector!
Otherwise, everything will be washed out.
Make sure to get the Brightness to Suit your needs!
Last but not least you have the Extra Features of the Projector.

Some projectors can Zoom In and out, and some only have dials to unfocus or focus the Image.

Sometimes you may want the projector to work at a 45-degree angle of a wall. Other times you will want the projector to Hang off a ceiling

These are all things to consider for your projector. Make sure they have the features you need.
Now we can finally begin with the best projectors for your phone.
I will try to include Different types of projectors to suit all your needs.
What are the Best smartphone projectors in 2020?
---
1. Jinhoo 2020 WiFi Mini Projector
Brightness 4200 Lux (Brighter than Any Projector in the price range)
Projection Distance 1.5M - 5.0M

Native Resolution

720P (Supports 1080P)
Projection Size 32''~176''
Contrast Ratio 2000: 1
Cable powered
3 Months Free return
24 Month Product Warranty
Includes a 100" Projector Screen Sheet
Pros
Connect to your Smartphone using Wi-Fi
Connect to your Smartphone using Charger cable
Projector White screen Included
Mini-Projector Size
720P Native Resolution
Great Price to performance ratio
Built in Speakers
*Wide Compatibility* (Works with all devices)
Great Warranty
What puts this projector in 1st place is the ease-of-use and Quick connectivity.
You don't need any extra Cables to get this working with your phone, And you can connect either using your Wi-Fi, Or you can connect using your phones charger cable.
A great overall option with Wide compatibility options, Expect it to work with almost any device you have.
The size of this projector is great for portability, and you won't need to have any speakers with you thanks to the built in speakers it already provides you with.
It yields a Great price to performance ratio, and with the 4200 Lux Brightness you can expect it to work well even in Moderately lit up rooms.
If you want a projector for very well lit rooms then you should go for number 4. It has the Highest LUX On this list.
What makes it unbeatable is the fact that it includes a 100" Screen Sheet.
For who?
The JinHoo 2020 is a Great option for those on a tight budget who want a projector that works on the fly, and don't like messing around with HDMI Adapters and having a million different pieces to work with. Just pop in your Charger cable, or if that seems like too much work just connect using Wi-fi.
It is also for those who don't mind 720P if they get great colors and a bright display. Also, a great option for kids, as it's not expensive and comes with a 24 Month warranty.
The JinHoo 2020 is the Best bang for your buck projector.
If you like Risk-Free options this is also for you thanks to the 3 Months Free-Return policy
---
2. TOPVISION Mini Projector
2800 LUX
Viewing Distance 1.5 Meters to 5.2 Meters
Native Resolution 480P (Supports 1080P)
Projection Size 50" to 176"
Contrast Ratio 2000:1
Cable Powered
3 Month Free return
24 Month Free Warranty
Built in Speakers
Pros
AS Small as your Phone
No extra adapters needed
Uses your phone charger cable
Great price
Colors are accurate
Noise-Free
Great Warranty
*Wide Compatibility* Works with Any gaming console, and any device with HDMI, VGA, USB, or even an SD card.
Cons
480P Resolution
User Manual not very detailed
This one yields the best price you can find out there.
Extremely cheap, and yields great results.
Despite the fact it uses 480P, It still looks pretty great.
Where this projector shines is the Extra-wide compatibility. It works with Any gaming console and any device that uses HDMI or VGA. It even works with USBs and SD Cards.
It is a True-Mini projector and is very close to the size of your phone as you can see in the photo. This makes it a very portable option, and makes it perfect for use on the go.
It also doesn't need any Extra phone to HDMI Adapters, It works by simply connecting your phone charger cable to it.
This is a well known option, and has withstood the test of time
For who?
For those who like picking what is Tested to work by thousands of people. It is a very safe option to go for and has no reported problems whatsoever.
It is also great for people who need a projector on the Go. Its size makes it perfect for carrying in your bag without worrying about it not fitting. For the most portable Cable powered option, this is the way to go.
---
3. APEMAN NM4 Mini Portable Projector
Brightness: 50-100ANSI Lumen
Projection distance (recommended): 0.8m~2.6m
Native resolution 480p ( Supports 1080P)
Projection Size 30"-100" 
Contrast Ratio 1000:1
Battery Powered
One Month Free Refund
1 Year of Warranty
Built in Speakers
Pros
Battery Powered ( 1.5 Hours to 2.5 Hours)
Very Portable, Fits in your pocket
Built-In Speakers
Light-Weight
Great color quality
*Wide Compatibility*
Cons
480P Resolution
Needs a Extra adapters for smartphone connectivity ( Lightning to HDMI For Iphone, and Miracast Dongle for Android )
The APE MAN M4 Mini-projector is known to be the best battery-powered projector out there.
If you want a battery powered projector it is hard to go wrong with this option.
The color quality is outstanding.
You can take it with you in your pocket, and the battery life will easily last 1.5 hours to 2.5 hours! That makes it a great option for anyone who needs a small projector to take with you to school, university, or to take with you to brief meetings.
It is tiny.
To be precise, Its almost as big as your phone, But usually it's even smaller.
As for the brightness, it works well in Dimmed rooms, but it won't be the best option in day-light situations.
As long as you close the curtains, or you don't have full blast light coming into the room you should be fine.
And the 480P Native resolution is something you can't argue with. You can't expect more than 480P On a battery-powered projector packed with features at this price.
If you Would also like speakers, and don't wanna carry around a pair of speakers you are covered. It includes built-in speakers.
And don't worry about buying any stands or accesories. It comes with a 360 Adjustable tripod that works great and fits in your pocket.
For who?
Anyone who wants a projector that can fit in their pocket.
If you think the idea of having a projector that projects to sizes up to 100" then you will love this projector. It's like having a Big screen in your pocket.
---
4.VANKYO Performance V620
Brightness 6000 LUX
Projection Distance 5.25ft to 23.29ft (1.6 Metres - 7 Metres)
Native Resolution 1080P
Projection Size 45" to 200"
Contrast Ratio 5000:1
Cable powered
3 Months Free return
3 Years Full warranty
Built-In Hi-Fi Dual Stereo Speakers
Pros
1080P Native Resolution
Very Low Noise-Levels
GREAT Brightness 6000 LUX
Comes with Carrying Bag
Great Customer support
World-Leading company in Projectors
Amazing Contrast ratio means very accurate Darkness levels throughout the image
Compatible with any Devices
Hi-Fi Dual Stereo Speakers
Cons
Need an Extra lightning to HDMI Connector for iPhones, Or a USB-C to HDMI Connector for Android phones
Not Cheap
For those who don't care too much about having a mini projector then this is the way to go.
This projector is a normal-sized projector and has a Native resolution of 1080P
Where this projector stands out is the amazing build quality provided by VANKYO.
VANKYO make outstanding projectors, and this is just another example of that.
The brightness on this projector is insane. 6000LUX Brightness means you can rock this projector even in well-lit areas. If you want a Great 1080P Projector that works with your Any device as well as your phone, then this is the best option for you.
The Contrast ratio is great on this projector. What that means is you can expect very dark blacks, and very accurate whites. You will get a Vivid display compared to the Mini-projectors on this list.
Viewing size is another place this projector shines. If you want very big Viewing sizes, a Mini-projector just wont cut it. Mini-projector are best for medium sized displays.
If you like Big guns, you will also like the big performance projectors.
Performance is even in the name!
For who is it?
The VANKYO Performance V620 is Perfect for those who want the best viewing experience possible. This beast packs a hell of a punch.
It is for anyone who doesn't care too much about having a tiny projector and wants to get the largest screen possible with the best brightness, color quality, and Contrast possible.
And if you are anything like me, and hate Bad customer support then this is perfect for you.
VANKYO Are well known for their Outstanding 3 Year warranties and their Great customer support.
---
5.VANKYO Leisure 470 Mini Projector

Brightness 4000 LUX
Projection Distance From 4.27 to 26.57 feet (1.3 to 8 Metres)
Native resolution 720P (Supports 1080P)
Projection Size 39" to 250"
Contrast 3500:1
Cable Powered
3 Month Free return
3 Year Full Warranty
Comes with Carrying case
Built-In Speakers
Pros
Wi-Fi Synchronization for Phones
Built in Hi-Fi Stereo Speakers
Advanced Dual Cooling fan
FLEXIBLE MULTIMEDIA CONNECTIVITY
720P Resolution
No need for Extra cables for Phone
up to 250 Inch Large display
More Brightness than Most mini projectors
Cons
A little noisy
When using Wi-Fi you have to keep device very close to projector
If you want a Mini-projector with the best customer support possible VANKYO Has your back.
VANKYO Are well known for creating Great projectors, and are known to have the least problems possible.
If you like going with the best companies out there that provide the best customer support and the greatest warranties This is your best Mini-Projector option.
With a Display up to 250 INCHES on a Mini projector you can't go wrong with this projector. It also boasts an amazing 4000LUX Brightness which kills the competition in Mini-Projectors.
The fact they even ship these with a Carrying case is a Mindblowing bonus. The carrying case looks professional, and is perfect for taking your projector with you.
And if you are worried about connecting your iPhone, or Android device then don't.
It works Perfectly using Wi-Fi. So you could easily connect your phone to it using Wi-Fi.
If you would like a more stable connection you might want to get your self a Lightning to HDMI Connector, or a USB-C to HDMI connector.
However, that is not required as this projector can also work using your phone charger cable.
The Hi-Fi Stereo speakers are another extra on this projector, and they sound pretty oustanding for a built in speaker.
VANKYO Leisure 470's only downside is the noise it produces. If you don't mind a little back ground noise, then be prepared for a mind blowing experience.
For who is this?
For anyone who wants TOP-Notch customer support, and a 3 year warranty.
For anyone who needs a Mini-projector with a Big Display size up to 250" Of screen size.
And of course for people who don't mind a little extra fan noise. But you have a 3 month No questions asked free return so you shouldn't worry about that.
---
If you found this useful, Don't forget to share it with your friends!